Wooden children's toys
Wooden children's toys are recognizable traditional products from Hrvatsko Zagorje with long tradition. The way of manufacturing has been handed down from generation to generation and maintained until today. Wooden flutes - žviegle and tamburitzas are in lively colors and of various shapes. The making and yellow color are traditional and a distinguishing mark of wooden toys. The art of making traditional wooden children's toys in Hrvatsko Zagorje was made part of UNESCO-s Representative List of the Intangible Cultural Heritage of Humanity in 2009.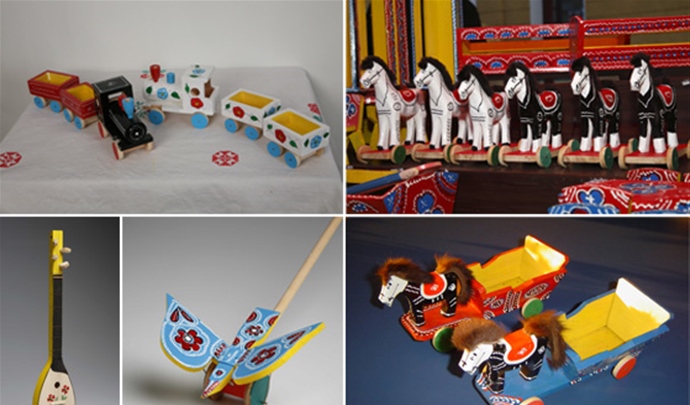 Gingerbread
Gingerbread is a colorfully decorated cookie made from honey-dough. Traditionally, it is bright red and comes in various forms and sizes. Small gingerbread pieces (hearts, babies, birds, hooves, wreaths, horses) are favorite decorations on Christmas trees in homes in Croatia and the larger ones are intended for giving as presents to the loved ones on special occasions. Gingerbread making is an old craft which dates back to the 13th century. Gingerbread making tradition was made part of UNESCO-s Representative List of the Intangible Cultural Heritage of Humanity in 2010.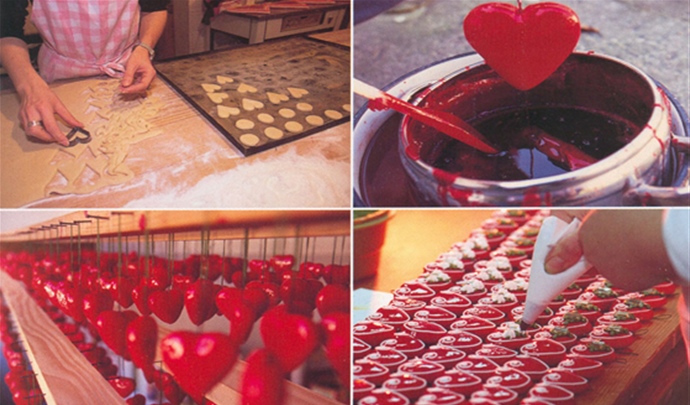 Gingerbread making
Gingerbread makers produce by hand a great number of products whose basic ingredients are: honey, honey-comb and wax. These are: gingerbread cookies, mead, candles, votive figures and gingerbread of different shapes and colours (hearts, horses, babies, prayer beads, slippers, clocks, etc). The basic ingredient of these products is honey-comb and from its dispensing wax is made; and gingerbread makers have already cooperated with candle makers because of the nature of technological procedure or often one person is doing both crafts.
Special experience of Marija Bistrica and gingerbread craft also include mead tasting –that is very distinctive drink made of honey with rich taste and the smell of nature. It is made by spontaneous fermentation of honey and people used to call it the immortality drink because of its healing properties.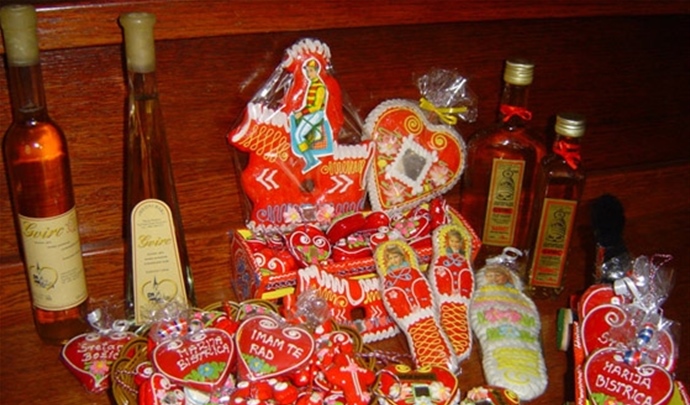 Pottery
Pottery is the art of making pots and similar objects from clay. Diligent craftsmen make with their hands flower pots, baking dishes, small goblets but also musical instruments from baked clay. Those are various reeds shaped as birds which by blowing into the holes make sounds like a nightingale or some other song-bird. Pottery products had been primarily used in household as useful objects but today they have more and more become souvenirs which are willingly bought by visitors.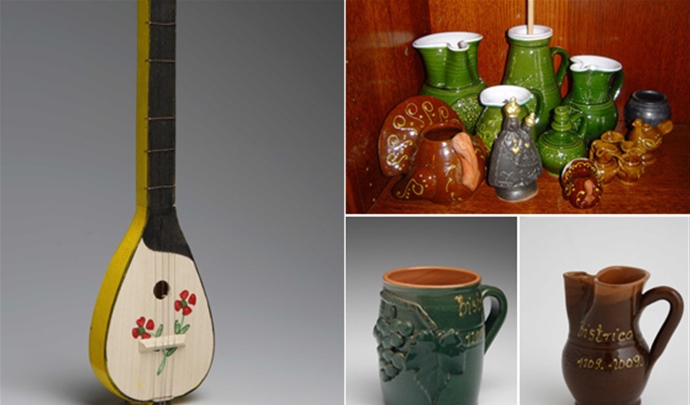 Old crafts workshops
Apart from religious activities which attract numerous pilgrims to Marija Bistrica, this place also has numerous old crafts and trades to offer to its visitors to explore. The art of craftsmen has its future in making of wooden toys, gingerbread, pottery and other souvenirs.
You can get an insight into and experience the old trades in a very special and interesting way every day in an interactive presentation by the craftsmen - workshops for making gingerbread, wooden toys or pottery products. In old crafts workshops children, but also everybody who has interest in it, can learn how to express themselves in visual art and find out about the values and the necessity of maintaining the authentic handcrafts of the folk heritage of Hrvatsko Zagorje.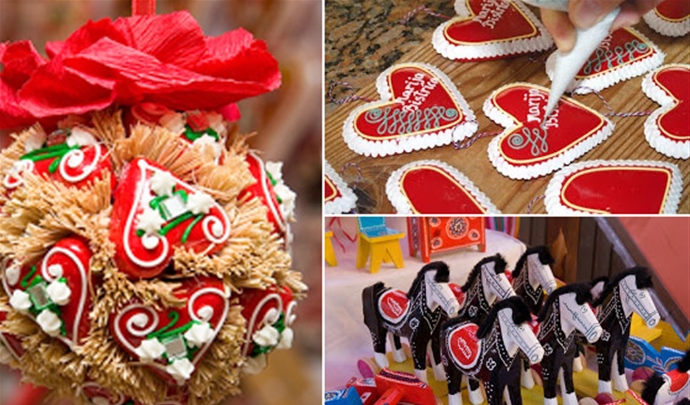 Traditional crafts
Gingerbread and candle maker Zozolly – founded in 1882
Vlasta Hubicki
Nova cesta 13
phone: 00385 (0)49 469 070; 468 354
Gingerbread and candle maker and souvenir shop Mahmet
Gordana Mahmet Habazin
Kolodvorska 22
phone: 00385 (0)49 469 040; 468 296
Gingerbread and candle maker - catering trade Medni bar
Snježana Husinec
Trg pape Ivana Pavla II. 5
phone: 00385 (0)49 469 527
Gingerbread - candle maker and souvenir shop Bičak
Jasminka Kovačić
Trg pape Ivana Pavla II. 29
cell: 00385 (0)99 6919 666
"Gingerbreads" Bičak
Ljerka Dragija
Zagrebačka 8
phone 00385 (0)1 2064 188
Mead and gingerbread maker Šćuric
Brankica Šćuric
Podgorje Bistričko 29
phone: 00385 (0)49 469 486
Traditional crafts by the craftsman Toma
Tomo Kovačić
Globočec 18
phone: 00385 (0)49 469 292
Pottery
Ivan Kovačić
Globočec 20
phone: 00385 (0)49 469 443
Wood – M
Vladimir Gorički
Tugonica 52
phone: 00385 (0)49 444 216
Making of wooden toys
Ivica Mesar
Tugonica 146
cell: 00385 (0)95/ 5291 410
Making of wooden toys
Ivan Mikuš
Laz Stubički 10
cell: 00385 (0)91/ 5800 590
Making of wooden toys
Stjepan Mikuš
Laz Stubički 42a
cell: 00385 (0)98/ 612 702
Making of wooden toys
Ivan Hajnić
Tugonica 54b
phone: 00385 (0)49 444 109
Making of wooden toys
Lovro Fijan
Zagrebačka 3
cell: 00385 (0)98/ 607 390